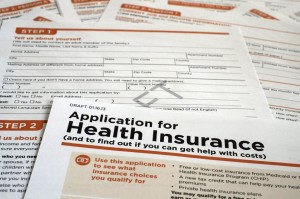 Beginning January 1, 2014, all Americans must carry health insurance or be subject to a tax penalty. However, two recent polls reveal that many Americans are deciding to forgo insurance and just pay the penalty: 38% who responded to a poll by Princeton Survey Research Associates, and 28% of respondents to an earlier Gallup poll.
How much will the penalty be in 2014?
Both the Gallup and Princeton polls found that most Americans are still confused about how to calculate the Obamacare penalty. The penalty in 2014 will be the greater of $95 or 1% of household income above the IRS filing threshold, which is $10,000 for individuals and $20,000 for families.
The "filing threshold" part is the root of most of the confusion. Americans will not be penalized on their entire income, only on the portion that is above $10,000.00 for an individual and $20,000.00 for a household. Therefore, an individual earning $40,000.00 will pay a penalty amounting to 1% of $30,000.00, or $300.00. A family earning $80,000.00 will pay a penalty of 1% of $60,000.00, or $600.00.
These numbers are for 2014 only; the penalty rises in 2015.
When is it worth it to just take the penalty?
Under the new law, individuals and households with annual incomes between 100% and 400% of the 2012 federal poverty level (FPL) are eligible for government subsidies to help pay premiums. If your income is above 400% FPL, you must shoulder the full premium yourself… and this cost could be substantial.
For example, consider two 35-year-old adults and one infant living in Dallas County, Texas, with a household income of $80,000.00. This family earns too much to be eligible for subsidies on the exchange. Even though no one in the family has any health problems, the cheapest PPO Bronze plan they could purchase on the exchange costs $585/month. If this family instead opted to pay the penalty, they would pay only $600.00, a savings of $6,420.00.
Taking the penalty does not automatically mean being uninsured.
The concern many people have regarding paying the penalty is that they do not want to go without health insurance coverage. However, you can still purchase a fixed-benefit medical plan that, while not a "qualifying plan" under Obamacare, will meet your needs.
Going back to our hypothetical Texas family, they could log on to Health-Life-Dental-Insurance.com and purchase an Assurant Health Access Fundamentals fixed-benefit plan for only $307.00/month. Because the Assurant plan is not a "qualifying plan" under Obamacare, they would still have to pay the $600.00 penalty, but even then, they would save over $2,500.00 in 2014.
You can save a lot of money by taking the penalty and buying a fixed-benefit health plan.
As discussed in a previous blog, fixed-benefit plans pay only a portion of health costs, not all of them. Fixed-benefit plans also have provider networks, provide drug discounts, include personal advocates to negotiate medical bills, and pay a fixed amount based on a fee schedule.
A fixed-benefit plan helps you in paying for everyday coverage that you need with no deductible, while saving you hundreds, perhaps thousands of dollars in 2014.
Health-Life-Dental-Insurance.com can help you select the plan that best meets your needs and saves you money. Click here to get started online, or call 1-800-257-1723 to speak directly to an agent.