2017 Obamacare cost increases will outpace 2016's
Ever since Obamacare's full implementation, May is when health insurance companies submit their premium rate requests to each state's Office of the Insurance Commissioner (OIC). To date, more than a dozen states have made their rate requests public, and the vast majority of requests have been for double-digit percentage hikes. In fact, 2017 Obamacare cost increases will outpace 2016's.
For most families that do not receive a health insurance premium subsidy, the monthly cost of health insurance premiums now exceeds their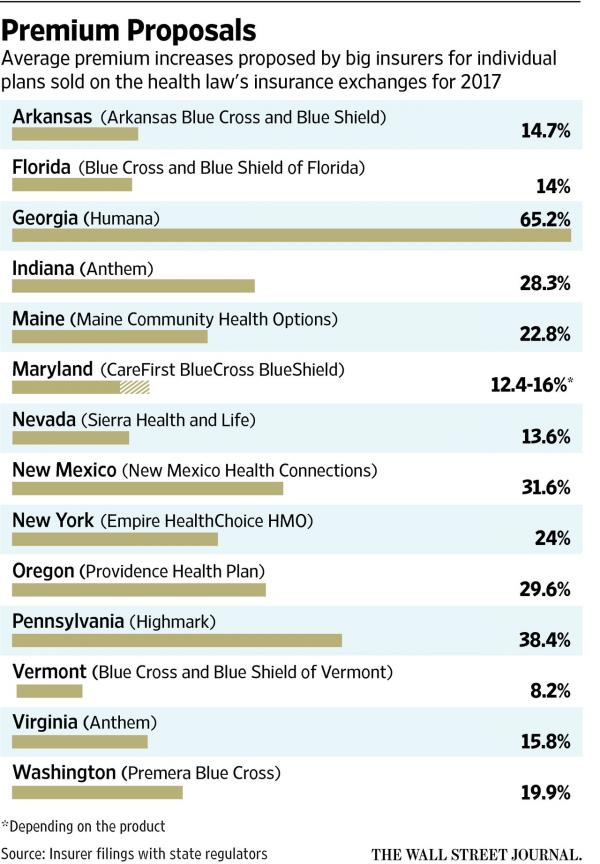 mortgage payment.  Add deductibles to that cost and for many health care insurance is simply not affordable.
Texans Brace Yourselves
This chart excludes Texas – but according to federal regulator filings, Blue Cross and Blue Shield of Texas - that state's largest insurer - has asked for rate hikes in excess of 55% for next year. According to filings listed on healthcare.gov, Blue Cross and Blue Shield seeks increases between 57.33 percent and 59.35 percent for two of its Blue Advantage Plus plans and 58.6 percent hike for a Blue Advantage Health Maintenance Organization.
Even if the Texas OIC balks at the rate increase demand, it likely can do nothing about it. Stacey Pogue, a senior policy analyst at the Center for Public Policy Priorities in Austin, said Texas typically lacks the teeth in its insurance regulations to block a rate increase. "There's not a process in Texas for it to be denied," she said.  "Even if they find it unreasonable they can't stop it," she said.
But let's say the Texas OIC does say no – then what?  Last year Blue Cross and Blue Shield of New Mexico, a division of the same parent company of Blue Cross and Blue Shield of Texas, asked for a 51 percent rate increase for its exchange plans. When New Mexico insurance officials refused, the company withdrew all individual plans from the state.
Other insurers haven't even bothered asking for rate hikes. Instead, companies such as UnitedHealthcare, has simply withdrawn from Texas and most other state ACA marketplaces.  Humana warned earlier this month that it plans "a number of changes … to address the significant risk selection issues we have and continue to face." Cigna has called its participation in the exchanges "contingent upon future market conditions and approval of our regulatory filings".
For those Blue Cross and Blue Shield of Texas insureds, the people in rural areas of Texas will be the hardest hit by the rate increase because Blue Cross and Blue Shield is often the only option in remote areas.
So how do families that cannot qualify for subsidies protect themselves from these devastating rate increases?  At Health-Life-Dental-Insurance.com we have an answer.  If you and your family members are healthy (of if most of you are) we can help you structure a health insurance program that provides better family financial protection than anything available through the ACA exchanges.  PLUS, all of our coverage options are from A+ rated insurance companies with outstanding customer service ratings.  Call us today at 1-800-257-1723 or click here to schedule an appointment.