Republican Senators push for more affordable insurance options under ACA
[caption id="attachment_1053" align="alignright" width="300"]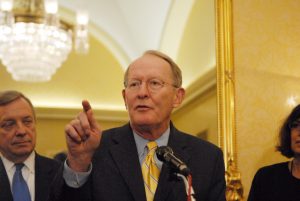 U.S. Sen. Lamar Alexander[/caption]
WASHINGTON – Concerned by skyrocketing premiums and fewer coverage options, U.S. Sen. Lamar Alexander and other Senate Republicans are pushing to give more choices to Americans who
buy health insurance through one of the marketplaces set up under the Affordable Care Act.
Their legislation wouldn't permanently fix what's ailing the 2010 law, informally known as Obamacare, Alexander said. But it could provide temporary relief for millions of Americans who in November will begin buying their insurance for next year.
"If the market is collapsing in our face, we need a solution for the year 2017," said Alexander, a Maryville Republican and chairman of the Senate committee that oversees health-care issues. "This is a solution for that."
The bill, introduced last Wednesday by Alexander and seven other Republicans, would give states authority to temporarily let residents use their Obamacare subsidies to buy a health plan of their choice for 2017, even if it's available outside an Affordable Care Act marketplace.
States that exercise that authority would receive a one-year exemption from an Obamacare provision requiring people to buy a specific plan or pay a fine of up to $2,000 per year.
Alexander says such steps are necessary given the turbulence in the health-insurance market.
Just last month, insurance giant Aetna announced that next year it will pull out of the federal online marketplace — HealthCare.gov — in most states where the exchange operates.
Around the same time, Tennessee Insurance Commissioner Julie Mix McPeak declared the federal exchange in the state "very near collapse" and signed off on large premium increases that she said were necessary to keep it in business.
Cigna was given permission to boost its rates an average 46.3 percent. Blue Cross and Blue Shield of Tennessee was granted an average 62 percent increase.
The problem stretches far beyond Tennessee, Alexander said. Come November, nearly one-third of the nation's counties will have only one insurer to choose from on state-based exchanges created under the Affordable Care Act, he said.
"This is an immediate problem in our state and the whole country," Alexander said. "Premiums are skyrocketing. Insurance companies are leaving, and families are being left with one choice for insurance."
President Barack Obama's administration argues that Tennesseans are actually benefiting from the Affordable Care Act.
New census data shows that just 10.3 percent of Tennesseans went uninsured in 2015, down from 14.4 percent in 2010. That means that 266,000 more Tennesseans had health coverage in 2015, according to the U.S. Department of Health and Human Services.
The average family premium in Tennessee was $2,100 lower in 2015 than it would have been had premiums grown at the same rate they did in the decade before the Affordable Care Act, the White House Council of Economic Advisers says.
What's more, hospital re-admissions for Tennessee Medicare beneficiaries dropped 8.7 percent between 2010 and 2015, according to the Centers for Medicare and Medicaid Services. That drop translates into 2,905 times Tennessee Medicare beneficiaries avoided an unnecessary return to the hospital, the agency said.
"Affordability, access and quality are how we measure success in our health care system," Health and Human Services Secretary Sylvia Mathews Burwell said in a recent news release. "Tennessee is making progress on all three under the Affordable Care Act."
Making the case that Obamacare is working requires "a vivid imagination," Alexander said.
But getting his legislation passed in time to help Americans buying next year's health insurance will take some ingenuity.
Congress will be in recess all through October and won't be back in session until after the November election, right around the time most Americans will begin shopping for insurance for 2017.
Passing the bill in that time frame "will be hard to do," Alexander said. "But that doesn't mean we shouldn't try."
Article written by Michael Collins, The Tennessean's Washington correspondent.