Many Americans assume that if they have a good job, they'll have a good health care plan.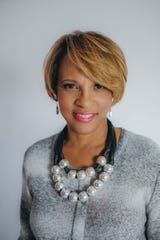 Sophia A. Nelson in Vienna, Virginia, in 2017. (Photo: Family handout)
They assume that if they have insurance, they are immune from the health care debate. In reality, many of us are just one major illness away from financial devastation. I know, I've been there.
About a decade ago, I was severely injured after I was run off the road by a vehicle while riding my bicycle. The injury caused a series of health issues resulting in more than $50,000 worth of medical bills that I was responsible for paying, despite having good health insurance and financial security. That was $50,000 beyond my premiums, deductibles and out-of-pocket maximums that I already paid. In my case, my injury slowed my ability to work, generate income for my business, and keep up with prescription medications, follow-up procedures and large deductibles.
Sadly, my situation is not unique. According to Gallup polls, 70% of Americans say our health care "is in a state of crisis," and rising insurance premiums are a major concern for 61% of Americans. Nearly half (46%) are worried they won't be able to afford their care.
A quarter of Americans have skipped treatment because of its cost and, even among people of means (households earning $180,000 or more a year), a third fear a major health event could lead them to file for bankruptcy.
I am a single woman, with no dependent children. I own a successful consulting firm. My health care costs run more than $600 a month just for the premiums (what I pay in order to have my insurance policy). Nationwide, average premiums vary widely by age, plan and state of residence. Then, there are $50 copays for every doctor visit, prescription costs and visits to urgent care.
With an eye to the future, I also have long-term care insurance, which three-quarters of Americans say they don't have and more than half say is too expensive. What happens if you cannot work? What happens if you get disabled temporarily? How will you pay your bills, keep your home and cover medical expenses? Health care costs do not just begin and end with your health care coverage.
Health care costs add up
Despite running my own business and doing well, my medical emergency devastated me financially. Unable to work as hard as I was used to, and having gone through my savings and 401(k) from my days working in law, I could not pay my mortgage, the debt piled up and I filed bankruptcy. I had to start over in my mid-40s. It took me five years just to recover, get another home and rebuild a normal life, but with my health care costs I will always be looking over my shoulder with worry.
Sophia A. Nelson, Opinion contributor, USA Today