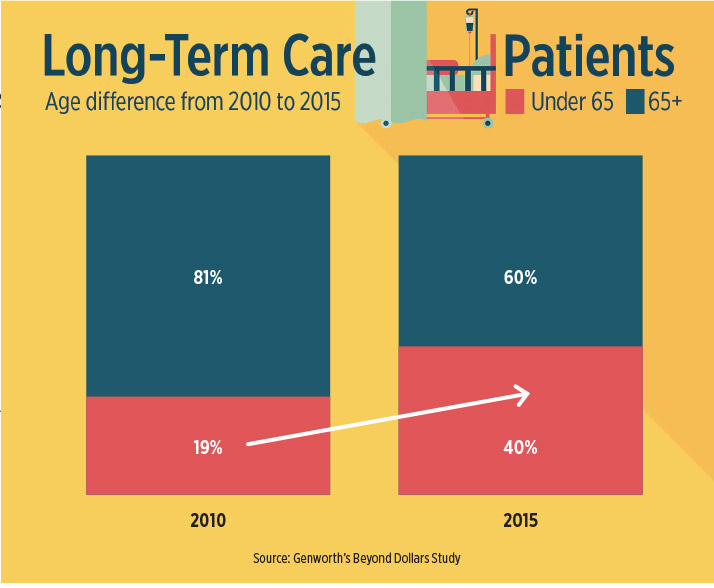 Most small business employees and owner benefit packages have a glaring coverage gap that is becoming increasingly harder to ignore as baby boomers become older and younger employees become caregivers. I'm referring to insurance that covers long-term care. This is coverage that helps small business employees and owners protect their retirement assets and shoulder their responsibilities as caregivers should they or a family member need extended long-term care services.
Health insurance covers medical services such as doctor visits, hospitalizations and prescriptions. Life insurance provides a death benefit. Disability insurance provides supplemental income when employees can't work due to illness or injury. And retirement plans help employees build a nest egg. But none of these types of insurance covers the cost of services and support that people need when they can no longer care for themselves because of an accident, illness or cognitive disorder.
That's where Long Term Care Coverage (available through the purchase of a Living Benefits Life Insurance Policy) fits in. The benefits from Living Benefits Life Insurance can be used by policyholders of all ages who are permanently or temporarily unable to perform at least two activities of daily living (eating, bathing, dressing, toileting, transferring and continence) or who suffer from a cognitive disability. If, for example, you are injured in an auto accident and need help with bathing and dressing, and perhaps need some home modifications, your Living Benefits coverage likely would pay for that.
Long-term care services can be expensive. The cost of long-term care continues to rise year over year in most care settings, according to Genworth's 2016 annual Cost of Care Study. These costs are increasing, especially for services in the home, which is where most people choose to receive care. Nationally, the median monthly costs for the services of a homemaker or an in-home health aide for 44 hours a week are $3,813 and $3,861, respectively. The national median monthly cost of a private nursing home room is $7,698; assisted living, $3,628 per month; and adult day care services, $1,473 per month.
Contrary to what many believe, long-term care is not for just older people. In fact, our Beyond Dollars Study found that long-term care is increasingly being used for younger policyholders. The percentage of care for recipients 65 years of age and older fell from 81 percent in 2010, the first year of the study, to 60 percent in 2015. This means that 40 percent of people requiring long-term care services are under the age of 65. That same survey also found more long-term claims stem from accidents than from illnesses.
For more information about Living Benefits Life Insurance call us now at 800-257-1723 or click here to set an appointment.