Now that Tom Price is HHS Secretary, what to expect in an Obamacare replacement plan
By Donna Rosato
The Senate confirmation of Tom Price to head the Department of Health and Human Services may provide the clearest look yet at the future of health insurance under the Trump administration.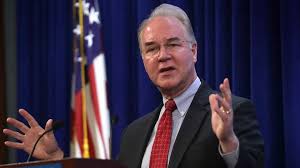 As a Republican Congressman from Georgia, Price  was one of the strongest opponents of the Affordable Care Act, also known as "Obamacare." And in 2015 he authored one of the most detailed plans, the Empowering Patients First Act, to repeal and replace the ACA, says Timothy Jost, a health policy expert and emeritus professor at Washington and Lee University School of Law in Lexington, Va.
But his proposal is just one of several alternatives put forward by the GOP, including one from Sen. Rand Paul (R-Ky.) and another joint proposal from Senators Bill Cassidy (R-La.) and Susan Collins (R-Maine). "There are a lot of commonalities in the plans we're seeing, and I think those will be key elements of a final plan," Jost says.
Many Americans are worried about their ability to afford health insurance, according to Consumer Reports' new Consumer Voices Survey. It found that 55 percent of Americans are not sure that they or their loved ones will be able to pay for the health insurance they need.
Here's a guide to some of the provisions common to several of the replacement plans, already dubbed "Trumpcare" by some, and how they may affect you.
What 'Trumpcare' Could Do
Expand health savings accounts.One of the GOP's biggest objections to the ACA is using federal money to give low-income people subsidies to help pay their insurance premiums. Instead, they want to encourage the use of health savings accounts, or HSAs, which allow individuals to put pretax money away to pay for healthcare expenses. Some Republican plans call for providing some funding for these HSA accounts.
HSAs are now available only to people who have high-deductible health plans, which means they have deductibles of at least $1,300 for an individual and $2,600 for a family. GOP proposals would allow people to open health savings accounts even if they didn't have a high-deductible plan.
They would also allow people to contribute more than the current amount—$3,350 for singles and $6,750 for a family. That might not help many Americans, who can't afford to stash away that much money, but could be a tax benefit for wealthier people.
Require continuous coverage.A popular part of the ACA is the provision that all people, even those with pre-existing health conditions, are entitled to coverage without premiums being rated based on a medical condition. But that provision also made ACA plans expensive.
Under some of the GOP plans, people with pre-existing conditions could still get insurance without higher premiums—but only if they were covered by insurance for at least the 18 months immediately before applying for new insurance.
If you have a lapse in coverage—say you lose your job and your employer-based health insurance, or can't afford the premiums on your insurance—an insurer could deny you coverage or charge you significantly higher premiums to enroll in a new plan.
Return to high-risk insurance pools.For people who don't qualify for continuous coverage, some GOP plans propose high-risk pools. Before the ACA, 35 states offered insurance to people considered at high risk for needing costly care because they had an illness or disease or prior treatment or diagnosis for a medical condition.
These high-risk insurance pools were often the only option for people with pre-existing conditions, unless they were insured by their employer or through government programs such as Medicare and Medicaid.
But these high-risk plans were very expensive, offered limited coverage, and programs were underfunded in some states, so there were waiting lists and no guarantee you could get coverage.
Allow insurers to sell across state lines.Currently, each state sets its own consumer protections and demands for what insurance must cover. Under some GOP alternatives, insurers couldsell insurance policies in multiple states without having to craft state-specific plans.
The hope is that creating a national market for insurance would encourage competition to offer lower-cost insurance and give consumers more choice.
But critics worry that insurers would set up headquarters in states with weaker requirements, which could allow insurers to offer fewer consumer protections, less-comprehensive plans and limit states' ability to regulate insurance companies.
What the Changes Mean for Consumers
Health policy experts and consumer advocates acknowledge that the ACA has shortcomings but also feel that some of the proposals in the GOP plans could make insurance harder to afford.
The ACA did a good job offering coverage for people who had pre-existing conditions and people with very low incomes, but made insurance more costly for some higher-income people in the individual market who didn't qualify for subsidies, Jost says. He says the current proposals shift that equation.
"It's going to be a very good time in America to be young, healthy, and rich. Not a good time to be old, unhealthy, and poor," Jost says.
Consumers Union, the policy and mobilization arm of Consumer Reports, is analyzing each legislative proposal as it emerges.
"We intend to hold Congress and the administration accountable for the promises they've made to the American people that their new plan will be even better than the ACA," says Betsy Imholz, director of special projects at Consumers Union.
"The physicians' oath to 'do no harm' applies, and the 20 million consumers covered by the ACA deserve that protection as we collectively work to ensure affordable, adequate coverage for all Americans."
Having agent Mark Deschenes will keep you properly protected while saving money.  Call today 800-257-1723 or click here now to schedule an appointment