On April 25, 2016 The Washington Post published an Opinion written by Mark Thiessen that summarizes the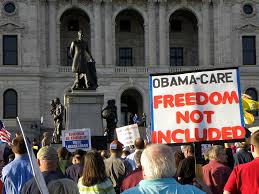 Obamacare disaster as Obama's Enduring Domestic Legacy.  Ronald Reagan told the American people: "The nine most terrifying words in the English language are 'I'm from the government, and I'm here to help.' " Obama wanted to convince Americans that they were not terrifying. And the way he was going to do it was through the only great liberal legislative achievement of his presidency: Obamacare.  To read the complete article, click here.
Obamacare, quite simply, is a bad program.  In 2010, the Congressional Budget Office (CBO) estimated Obamacare exchanges would enroll 21 million people in 2016. Current CBO estimates show Obamacare's exchanges will enroll only 13 million people this year, or 8 million fewer than predicted. Estimated actual versus predicted performance clearly demonstrates that Americans are definitely not enthralled with Obamacare. Further, 12 out of the 23 Obamacare co-ops have dropped out of the marketplace – resulting in lost insurance coverage and huge American debt. Recently, UnitedHealthcare announced they would be leaving the exchanges in most states – more co-ops and insurance companies are suspected to follow suit. A great number of people shocked by the Obamacare sticker price are simply not buying. Let's repeal the Obamacare disaster and replace it with something fiscally responsible for both our government and people needing such insurance.